Course details
On an important day 【Available on the day】 Premium Birthday Dinner course 5000 yen (excluding tax) With Hall cake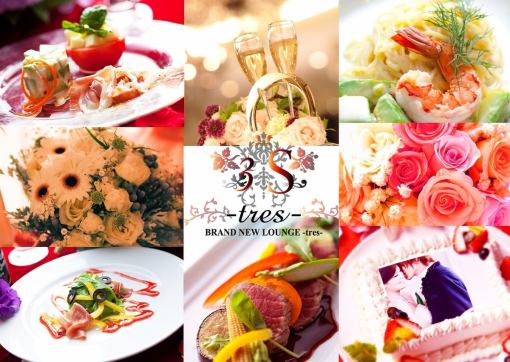 By using a coupon5000 Yen
One person / tax excluded
Reservation deadline

Until 17 o'clock on the desired shopping day
Available days for reservation

Monday - Sunday - Public holidays - Holidays
We are preparing a special production like a wedding, such as a table flower for light shining illumination.Carpaccio, Foie gras and Fillet of Meat Rossini, Seasonal Fish W Main dishes, including luxury Italian full course ★ LINE reservations will be received ★ 【LINE contact information】 LINE ID: @ feliz-100
Course menu
LINE reservations will be received! 【LINE contact information】 LINE ID: @ feliz - 100
"plan contents"
* I will produce a gorgeous seat with original cake preparation, table art flower, table cloth etc.
【Appetizer】
· 5 hors d'oeuvres of today
(Esca bessh, raw ham, olive, bruschetta, roast beef, cheese etc.)
【Appetizer】
· Fresh fish carpaccio
【Vegetable】
·Italian salad
【pasta】
· Basil and cheese tomato pasta
【cheese fondue】
· Thick cream cheese fondue
【Fish Main】
· Cod Poirelet du Grayresource
【Maine】
· Foie gras and beef fillet of Rossini
【dessert】
· Special homemade hall cake made by pastry
(We will correspond to birthday or anniversary.)
※ The dish will be shared with the table.
【Free Surprise Option】
★ Birthday interior decoration
※ We will decorate your seat with a balloon etc.!
※ It may differ slightly from the image image.please note that.
★ Surprise image production (In the case of taking home DVD, 1000 yen per piece)
※ We have a monitor up to your seat and display a photo slideshow or message!
In addition, comment movies etc. are totaled within 5 minutes, and photos are limited to 30 pictures.
* Production fee will be charged depending on the prescribed number of sheets and requested content.Please contact us.
Send a photo 【LINE contact information】 LINE ID: @ feliz-100
■ Immediate day hand delivery photography
■ Plate message
I will write a message with a chocolate pen on the cake plate ♪
■ Presents Pre-deposit is also possible!
【Charged option】
■ Birthday cocktail with fireworks 500 yen (tax excluded) (Free service by using coupons!)
■ Prepare bouquet 2000 yen (tax excluded) ~
■ Change to heart-shaped hall cake (number of people × 200 yen)
■ 1 bottle of Champagne Tower (excluding tax) (free service with use of coupons for over 8 people!)
■ Photo cake 2000 yen (tax excluded) (free service with use of coupons for over 5 people)
■ Original illustration cake, dress cake 3000 yen each
Please note that coupons can not be used in combination!
2018/11/07 update